Rideau Canal, Ottawa - February 1999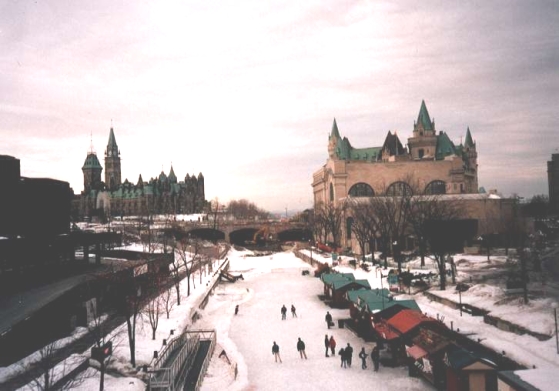 The Rideau Canal is home to the world's longest skating rink in winter. In fact, many people use it to skate to work!
In the summer, the canal is one of the most beautiful places you've ever seen, populated with tulips, cyclists, joggers, pedal boats, small yachts, ducks and geese, and running through Lansdowne Park, Carleton and Ottawa Universities, a marina, historic red-brick neighbourhoods... We'll try getting some pictures of it at different places and post them here.
In the background, you can see Chateau Laurier, one of Canada's most famous and swankiest hotels, and, further to the left, the Parliament Buildings.